National Register of Historic Places: New Castle Historic District
Where is it, what does it mean and what doesn't it mean?
Examples of houses in the district that have been preserved or destroyed

Photos of buildings on The Strand (1967-1974) from the Historic District nomination. Like most of the others
pictured
in the nomination, the buildings appear largely unchanged except for removal of stucco. Courtesy National Historic Landmarks Program, National Park Service, Washington D.C.
Where is the New Castle Historic District?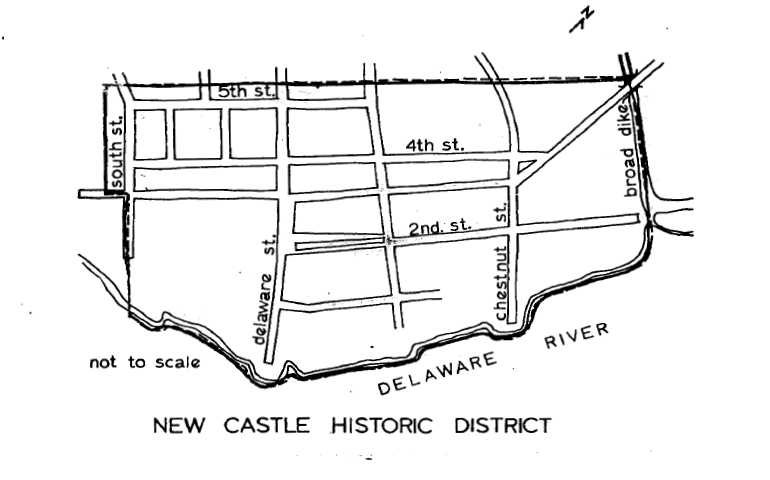 Map from page 94 of the nomination with the original 1967/1974 district boundaries. It is similar to the Historic Area Commission's district map except that the latter does not include houses on the north side of 5th street.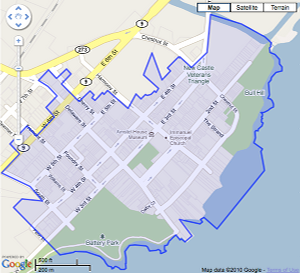 Google map version of the 1984 NCHD borders. GIS data from DHCA. Click to open interactive map.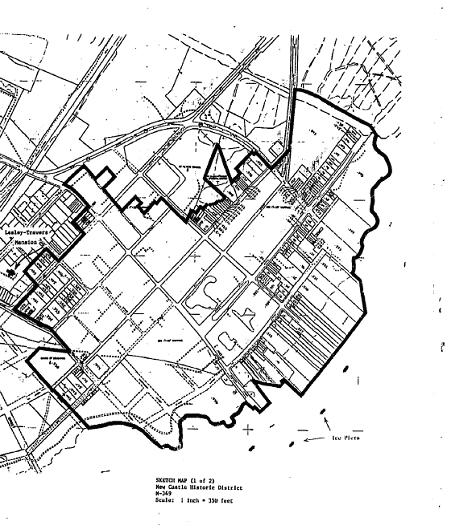 Sketch map from the 1984 nomination, page 86


In 1967 the NCHD was designated a National Historic Landmark, which automatically entered it into the National Register of Historic Places. It contained primarily pre-1850 buildings in an area similar to where the city's Historical Area Commission district regulates changes to building exterior.
The district was redefined in the 1984
nomination document
to include many 1850-1937 buildings. The district is about 5-6 blocks square with a highly irregular border as shown on the adjacent maps.
What is an Historic District?

According to the National Register program, "a district possesses a significant concentration, linkage, or continuity of sites, buildings, structures, or objects united historically or aesthetically by plan or physical development". NHLs are "nationally significant historic places designated by the Secretary of the Interior because they possess exceptional value or quality in illustrating or interpreting the heritage of the United States." NHLs therefore have to be nationally significant and (generally) the best illustration of a theme in the nation's history or prehistory. This NCHD nomination recognized the district as nationally significant for its early settlement history related to the Dutch and the English.
NR status does have economic value: studies in 10 states have shown that Historic Districts
enhances property values
. NR status recognizes a place as "worthy of preservation," and not anything more. Federal agencies are required to take note of it for their programs because of the Section 106 requirement to consider their effects on NR-eligible properties. When a federal agency has a project that could affect a NHL, the agency has to consult with the National Park Service, as well as all the other usual interested parties.
What Historic District status does and does not mean.
Listing in the National Register
is "an honorary status with some federal financial incentives
". Owners of commercial "contributing properties" who do work on them consistant with NPS guidelines are eligible to deduct up to 20% of the cost of repairs from both their
federal
and Delaware state taxes. Residential property owners can deduct up to 30% of
state taxes
(up to $20,000). Application to the State Historic Preservation Office is required. Over the years, 16 New Castle residential property homeowners have claimed state historic preservation tax credits. Work done according to Federal guidelines is required only if the owner wishes to apply for a tax rebate.
Historic district status
does not restrict private property owners from the use of their property
, nor does it prevent destruction of the houses within the area by individuals or state or local governments. In New Castle buildings at 101 W 3rd. St. (the Marini property), 37-41 W 3rd St., and 308 Chestnut St.have been torn down within the last few years. See before and after pictures below.
While the Federal government does not restrict property owners action on their houses, local authorities can and do, beginning with
Charleston SC
in 1931, followed by New Orleans and Savannah. In New Castle, the
Historic Area Commision
which originated as the Architectural Review Board in 1951 must approve all work done within its district. Again, HAC can not prevent destruction of houses. One would hope that the city could create ordinances that would prevent demolition by neglect or purposeful destruction of historic structures.
NR status does not prevent the federal government from demolishing historic properties either. It just requires that federal agencies "consider their effects" on NR-eligible properties. If the agency concludes (and it is the federal agency's decision in the end, not the SHPO's or the Advisory Council's) that there is no prudent or feasible alternative to the loss of a historic property, the project can proceed after the adverse effect (of demolition in this case) is mitigated in some way, usually by detailed recordation in a report with photographs, scaled drawings, and historical research.
Only local governments can truly protect historic properties, through their zoning authority, and different local governments provide widely differing levels and types of protection, depending on the desires of their constituents. New Castle's
Historic Area Commission
works to "guide preservation, restoration, rehabilitation and new construction in the New Castle Historic Area so that the integrity of the irreplaceable architectural heritage is not lost".
National Historic Landmark status is important in applying for some grants, such as the
Save America's Treasures
program of the National Park Service. The Delaware Historical Society received a $400,000 grant for exterior restoration of the Read House under this program. On the other hand, The New Castle Historical Society relied on funding from local private foundations, businesses and individuals to complete several major restoration projects at both the Amstel House & Dutch House between 2009 and 2011 instead of federal grant programs. Another federal program linked to National Register listing from which New Castle might benefit is the
Preserve America Program
The Nomination for New Castle was originally filed by the
National Historic Landmarks Program
in 1967, not long after the passage of the
National Historic Preservation Act
of 1966. The nomination document contains a list of the owners of the 576 properties in 1982, general historical and archtectural matter, description of the borders, capsule description of houses therein (see the examples below), historical significance and photographs.
Examples of capsule descriptions
.88 160 East Second Street - late eighteenth century; frame. 2-story. 3-bay, side-hallplan dwelling with a gable roof.
.89 166 East Second Street - circa 1910; brick. 2-story, four-square plan dwelling with a hipped roof and four hipped dormers; partially enclosed facade porch.
.90 212 East Second Street - circa 1895; frame, 2-story. 2-bay dwelling with a gable roof; brick veneer and a bay window have been added to the facade.
.91 214 East Second Street - circa 1880; frame, 2-story, 3-bay, dwelling with a gable roof and a shed dormer; a brick veneer has been added to the facade. (C) .92 216 East Second Street - circa 1880; half of a frame. 2-story, gable-roofed double house with a bracketed cornice; this unit is two bays wide and has had a bay window added to the facede. (C)
.93 218 East Second Street - circa 1880; half of a freme, 2-story, gable-roofed double house vith a bracketed cornice; this unit is three bays wide.